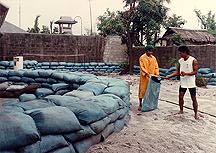 When we leave Clark, we plan to take the dogs. Some will go to other bases in PACAF, and the rest will return to Lackland.
The horses also fared well despite damage to some of the stables. Feed was no problem -- the cops keep a 90-day supply on hand at all times. so they had enough for their horses and MWR's.
And because of the condition of the base, the horses assumed a larger share perimeter patrol duty. Picking up 39 horses from MWRÕs stock the mounted horse patrol has grown to 59. The extra horses give the cops a lot more flexibility.
The 76 remaining MWR horses were sold at auction with S.M. Butterfly the top prize, drawing 65,000 pesos. The SP horses will be well taken care of, too. Several options are being considered, but nothing's concrete yet.
The Family Zoo was intact when we returned, but there were some hungry animals inside. Feeding them was no problem once we got access to the food in the commissary, since most of the perishables weren't fit for humans, anyway.
MWR folks have donated some of the animals to the zoo in Manila, and they're looking for good homes for the others.