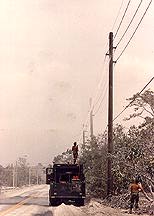 Fiery Vigil was the name for the Joint Task Force activated by the commander in chief, U.S. Pacific Command, in response to the dangers posed by Mount Pinatubo. The JTF had three missions: to protect U.S. military and civilian personnel, families, and equipment; to assist other U.S. nationals; and to provide assistance as requested by the government of the Philippines.

To relieve the strain on people and resources the decision was made to evacuate most of Clark's military personnel, civilians and families, as well as Subic's families.

The evacuation began June 17. Navy ships, including the oldest aircraft carrier, U.S.S. Midway, and the newest, U.S.S. Abraham Lincoln loaded up with evacuees and sailed to Cebu. From there, Air Force and commercial charter planes flew our friends and families to Andersen AFB Guam, then on to Hickam AFB, Hawaii, and finally to McChord AFB, Wash., or Travis AFB, Calif.

All along the way, from the sailors to the flight crews to the volunteers at each stop, people treated our evacuees with kindness, caring and friendship. They walked pets, baby-sat kids, and shared food, clothes, cars and homes. The outpouring of support and love from our military family will be forever remembered by the almost 20,000 who made the difficult journey.

At the stateside ports, special personnel teams handed out assignments so our people could get settled quickly. Families whose sponsors were still here In the ashlands went on to their chosen safe haven locations to wait for their ash warriors to return.