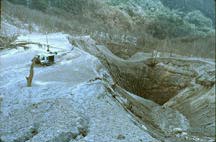 On the other hand, the No. 1 question evacuees asked dealt with the security of their property. The fact is, rumors about rampant looting In homes and offices are exaggerated. Since the evacuation, 296 break-ins have occurred -- 96 in government facilities and 200 in base housing.
Most household thefts occurred when we evacuated to the college. Fortunately, only two homes were ransacked. We found things missing in 76 more, and in the other 122, while forced entry may have occurred, there was no evidence that property had been stolen.
Unfortunately, for a variety of reasons, we don't have good numbers on thefts in off-base homes. Many were unreachable because the roads were in such bad shape. Several were washed away by mud flows. Through constant phone calls and messages to evacuees and discussions with local officials, however, we've worked hard to provide individuals with as much information about their homes as possible.