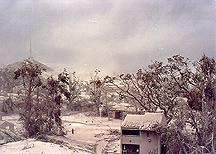 Ash warriors returning to Clark were stunned by what they saw. A solid black wall of ash -- looking for all the world like the edge of night -- hung to the northwest. All around the base stood trees stripped of most of their leaves and branches. Roads and runways were buried under 4-8 inches of ash.
Raln-heavy ash and constant quakes collapsed 111 buildings, including the Youth Center, Skate Center, Levln Gym, seven supply warehouses, several hangars, much of the power plant, and all the F4 environmental shelters. Sixty-four other buildings need major repair while 448 more require minor repair or cleanup.
Mud flows, or lahars, raced through the base exchange area, destroying the bookstore, damaging the vehicles in the New car Sales lot, and flooding the commissary. Others destroyed the NCO club and covered the grounds of the old Wagner High School with 3 feet of mud.
Also, sometime during the eruptions June 15-18, a pyroclastic flow roared down the Sacobia River valley, stopping just 300 yards short of Mactan housing.
On top of all this, during the first days back, the mission essential team faced the task of recovering the base without power or running water.