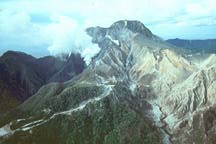 Then, June 10 at 5 a.m., because of continuing and increasing volcanic activity, Maj. Gen. William A. Studer, 13th Air Force commander, ordered the evacuation of all non-mission essential people and families to Subic. By 6 a.m., the first vehicles were rolling out the gate and little more than six hours later, about 14,000 folks were on the road. By nightfall, everyone was safe at Subic.
At that point, the Navy had the tough job of finding quarters for everybody. It took awhile, and there were some uncomfortable moments, but by Tuesday night everyone had a roof over their heads. Once settled, all of us -- the evacuees at Subic, San Miguel and Cubi Point as well as the 1,500 mission essential people still at Clark -- began the waiting game.
The mountain didn't keep us waiting long. When it exploded Wednesday, June 12, at 8:51 a.m., the base siren warned the mission essential team to bug out to the tent city at the far end of the runway. From there. we watched as the huge dark gray column of ash -- climbing at a rate of more than 1,000 mph -- shot up more than 60,000 feet. A spectacular and unforgettable sight, the plume mushroomed and billowed overhead until it filled the sky as far as we could see.